Winery in Wooster, Ohio

Find Your Wine Time
Whether you want to socialize with friends, spend time with family or find a quiet moment to relax, Lincoln Way Vineyards will help you Find Your Wine Time! To make your selection easier our Wine Time Series has a time for every wine. So no fancy names, just pick the time that's right for you.
BUY ONLINE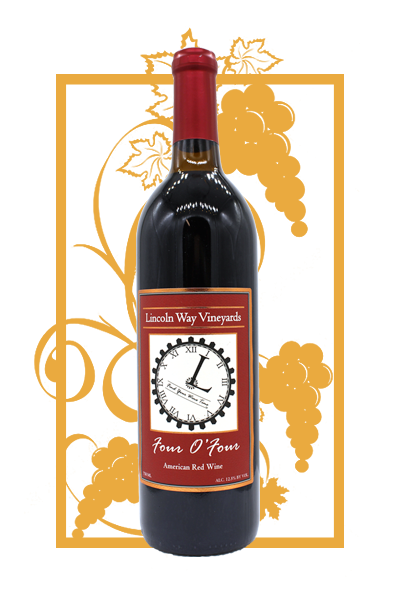 FOUR O' FOUR WHITE: Semi-Sweet, Traminette, floral nose, stone fruit essence, crisp, spice in finish.
FOUR O' FOUR ROSE: Semi-Sweet, Frontenac/Frontenac Gris/Blanc Grapes.
Floral notes with flavors of sour cherry and guava fruit.
FOUR O' FOUR RED: Off dry blend of Frontenac, Corot Noir and Noiret. Hints of Blackberry, Black Raspberry, Mulberry and Strawberry notes.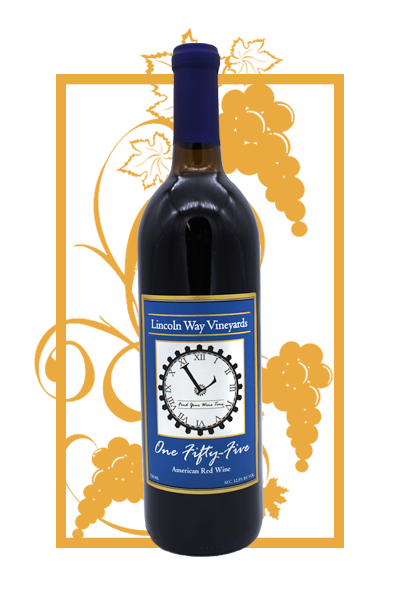 ONE FIFTY FIVE WHITE: Dry, Vidal Grapes, Estate Wine,
Lemon, grapefruit citrus.
ONE FIFTY FIVE ROSE: Dry, Vidal, Traminette, Corot Noir and Regent, Estate Wine, Hint of citrus, strawberry.
ONE FIFTY FIVE RED: Dry, Medium Bodied, Corot Noir, Regent and Baco Noir blend. Hints of Black Currant, blackberry, brambleberry.
SIX SIXTEEN WHITE: Sweet, Cayuga Grapes, Hints of Honey, Floral, Green Apple.
SIX SIXTEEN ROSE: Sweet, Catawba, Regent, Corot Noir Grapes, Hints of Strawberry.
SIX SIXTEEN RED: Sweet, Frontenac Grapes,
Grapey, hint of Clove.
Have you Found your Wine Time?
Jim and Sherri started Lincoln Way Vineyards in 2006. Their children, Alex and Ari, ages 19 and 16, have grown up with the vines and become an integral part of the family operation that Lincoln Way Vineyards is today. Alex operates and maintains equipment as well as oversees harvest and crush. Arianna mows the vineyards/winery grounds and is involved in the wine making process including running lab analyses on the grapes, must and wine. Jim, with his family background in farming and his career as a water treatment professional led to his interest in raising grapes and making wine, directs the operations while taking care of social media, festivals, and the tasting room. Sherri with a background in the wine business as a brand manager for a boutique wine distributor, and as an accounting and inventory controller for a scrap metal company spends her time marketing, accounting, blending wine and quality control.
Let us help you Find Your Wine Time as we offer dry, medium and sweet wines to please your palate!

READ MORE ABOUT US
"Thank you Lincoln Way Vineyards for such a fun evening wine tasting! The staff, atmosphere & wine were awesome! Will be back."
"First time there and definitely will be going back. The Rose' wine is so yummy. The staff are very friendly and take care of you."
"Came in after a long week of work. Love the mulled wine!! Adena and Bailey were super sweet and so helpful. Came in as strangers and left as friends. We will most definitely be back."