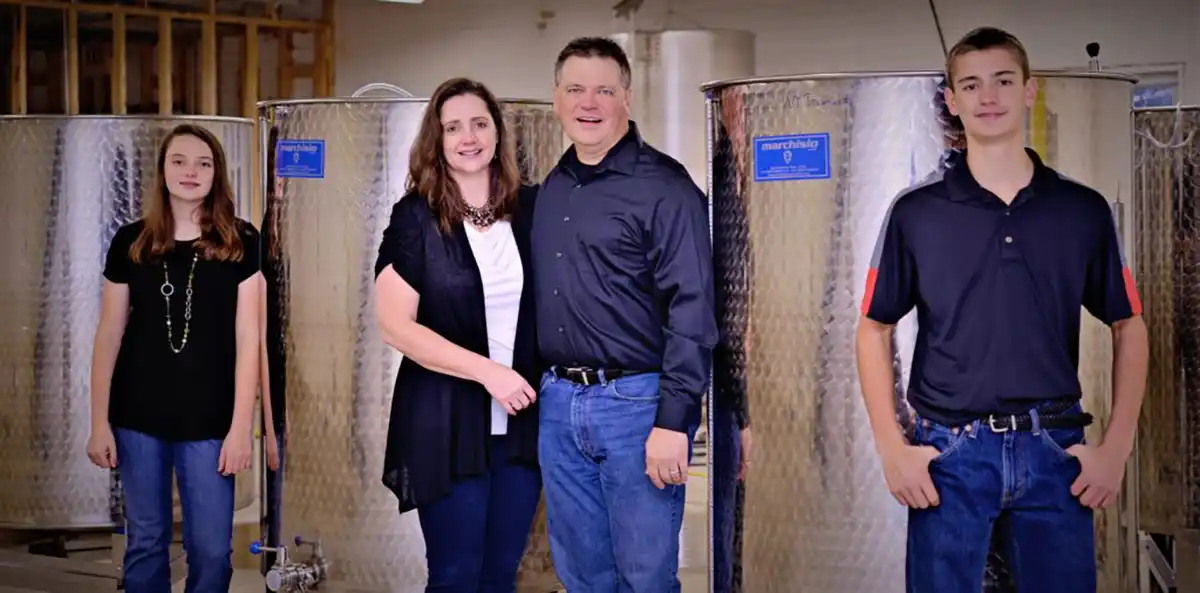 About Lincoln Way Vineyards and Winery
Jim and Sherri Borton established Lincoln Way Vineyards, Inc. in 2008 after planting the first block of Vidal Blanc grapes in 2006. The vineyard was established with the support of Andy Troutman of Troutman Vineyards and Winery in order to supply wine grapes to Troutman's rapidly growing operation. The day that Jim picked up the vines, Andy said, "Jim, you're going to be a winery someday, you just don't know it yet". Jim's reply, "let me make sure we don't kill these vines before we talk about a winery."
Jim and Sherri started making wine as a hobby soon after the first vines were planted. Each batch showed improvement and ultimately wines were receiving awards in various amateur contests, not to mention positive feedback from friends and family. Between them they have been awarded class winner, Grand and Reserve Champion, Honorable Mention, and various medals at local fairs to international amateur contests.
Fast forward to 2016, five (5) more acres of vines have been planted, and the abandoned warehouse, now the winery building, just down the road from the original vineyard, was purchased at auction. In early 2018, construction to convert the building to a winery began and the winery tasting room opened in late October 2018.
Today, along with their children, Alex and Arianna, and several full and part time staff, the Borton's operate Lincoln Way Vineyards. Jim oversees the day to day operation of all facets of the company while, Sherri serves as the wine quality control chief, marketing manager and accountant. The kids both claim the vineyards and winery as their current FFA supervised agricultural experience (SAE) projects. Alex works in the vineyards and assists with wine production (Cellar Rat) and Ari helps with wine production, wine analysis (Lab Rat) and business operations.
Backstory
Jim grew up in an agricultural family as both of his grandfathers were farm owner/operators while his father turned toward agricultural education as a professor at the Ohio State University Agricultural Technical Institute (ATI). Additionally, Jim was a 4-H member for 10 years, a Future Farmer of America (FFA) member for 4 years and worked for a local farm operation in high school. Due to the economics of farming in the mid 1980's Jim was advised by his grandparents to find another career and after graduating from Ohio State (both ATI and Columbus campuses) landed in the environmental science, water/wastewater utility business. In this path, Jim has worked at the local, state, national and even international level, in facilities both privately and publicly owned, including starting up and operating the treatment processes at the world's largest water treatment facility for New York City.
While Jim's primary career path took him away from farming, he continued to have a strong desire to be involved in the agricultural business sector. The vineyards, serving as a 4-H advisor and serving on the Wayne County Fair Board keeps him rooted in, well, his family's roots…
Sherri's agricultural experience was helping in her parents' garden and canning vegetables. She was a 6 year 4-H member taking mostly cooking and baking related projects, although never found the food and wine pairing project…?
After graduating from Miami University, Sherri worked 10 years in the wine industry for a wine distributor in Columbus where she oversaw the placement and sales promotion of over 40 premium wine brands as well as conducting inventory for the company. She created marketing materials for wineries as well as writing and publishing a trade newsletter, Le Veraison. Her palate developed quickly as she coordinated the company's tradeshow tastings throughout Ohio, allowing her to taste through over 200 wines from around the world in a few days' time. Her business trips to California only helped to cement that wine education is a major component to selling wine and creating an experience for people to remember.
After Jim & Sherri wed, they decided to move back to Jim's hometown near Wooster. It was at this point Sherri switched careers away from wine and marketing and into scrap and accounting. Her current role as Inventory Controller for a national scrap metal recycler allows her to refine her business skillsets which transfer daily to the winery operation.
Never having totally left the wine business, Sherri has put on consumer tastings as fundraisers for various organizations as well as groups of friends. She has hosted multi-course wine dinners with her sous chef, Arianna, paring each course with a different wine. Cooking is one of her passions because "when food is paired with the right wine it creates an unforgettable experience."
Today, both Jim and Sherri work full time away from the winery, both children are active in school, FFA and sports, so it takes some effort to find time to not only make wine, but to have time to drink and enjoy it. Thus, Find Your Wine Time™ was born. This has translated into our wine labels and other facets of the winery.
Come visit and Find Your Wine Time™ soon!